Amy Sherman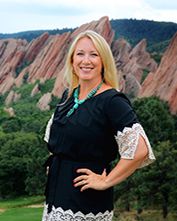 Amy Sherman is the President of the Northwest Douglas County Economic Development Corporation, an organization she helped create in November 2011.  The Northwest Douglas County EDC covers Roxborough, Sterling Ranch, Santa Fe Corridor, and Highlands Ranch.  The organization is focused on infrastructure improvements, public policy, and marketing of the region as a premier place to locate or expand a business.
Amy currently serves on the Chamber of Commerce Highlands Ranch and Roxborough Business Association Board of Directors, is the Chair of the Douglas County Energy Coalition and the Douglas County Business Alliance, serves on the Douglas County Educational Foundation and the Douglas County Community Foundation Board of Directors.  Amy is also active with ONE Roxborough and Catapult Colorado.  Amy was one of Denver Business Journal's 40 Under 40 winners in 2012, and Denver Business Journal's Top Women in Energy in 2015.
Previously, Amy was the President & CEO of the West Chamber Serving Jefferson County for ten years.  Prior to that Amy worked for the Longmont Area Chamber of Commerce, Colorado Travel & Tourism Authority (now Colorado Tourism Office), and the National Potato Council. 
Amy is the Past President of the Colorado Chamber of Commerce Executives, and served on the Board of the Colorado Association of Commerce & Industry.  She served on the Executive Committee of the Western Association of Chamber Executives, based in California.  She has served on several community and business boards, such as Lamb Spring Archaeological Preserve, Jefferson County EDC, St. Anthony Health Foundation, Lakewood Legacy Foundation, Wheat Ridge 2020, Denver West Kiwanis, and Wheat Ridge Rotary.
Amy has a degree in Communications and Psychology from the University of Kansas and is a graduate of Institute for Organizational Management, Colorado College.  Amy is a Douglas County native and lives in Roxborough with her husband, Steve, and boy/girl twins.