James A. Holmes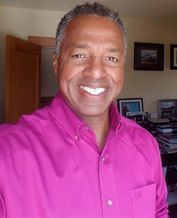 James has spent most of his professional career balancing two worlds, the first as a serial entrepreneur having founded, funded, and operated businesses in mortgage banking, real estate, motorsports sponsor management, business development, Internet marketing, and professional business coaching.
Paralleling James' entrepreneurial career has been a love of the arts and community service. As a current Trustee of the Denver Art Museum, Art District of Santa Fe Board Member, Douglas County Community Foundation Board Member, and past member of the Board of Directors for the Colorado Ballet, Colorado Business Committee for the Arts, Denver office of Art Culture & Film, Denver Foundation Arts & Grants Committee, Selector for Denver One Percent for the Arts, Denver's Great Art for a Great City, and Co-Chair of Denver's Millennium among others, James continues to make a lasting impact in Denver's cultural community.
James is a recipient of the Juanita Ross Gray Community Service Award, Denver Business Journal's 40 Under 40 Business Leaders, and the Outstanding Contributions to Tourism Award.
James' belief is: "Conscious entrepreneurship is a collaborative process where people with talent and resources accept the responsibility of changing the world through the creation of sustainable businesses which solve problems and provides value for others."
If you are passionate about life, have the desire to contribute to the happiness of others, value the creativity and achievements of others, and embrace the responsibility to be a good steward of our natural resources, you will discover much in common with James.